Roger Keith "Syd" Barrett
United Kingdom
Born January 6, 1946 - Died July 7, 2006
Like a supernova, Roger Keith "Syd" Barrett burned briefly and brightly, leaving an indelible mark upon psychedelic and progressive rock as the founder and original singer, songwriter, and lead guitarist of Pink Floyd. Barrett was responsible for most of their brilliant first album, 1967's The Piper at the Gates of Dawn, but left and/or was fired from the band in early 1968 after his erratic behavior had made him too difficult to deal with (he appears on a couple tracks on their second album, A Saucerful of Secrets). Such was his stature within the original lineup that few observers thought the band could survive his departure; in fact, the original group's management decided to keep Syd on and leave the rest of the band to their own devices.Pink Floyd never recaptured the playful humor and mad energy of their work with Barrett.

After a period of hibernation, Barrett re-emerged in 1970 with a pair of albums, The Madcap Laughs and Barrett, which featured considerable support from his former bandmates (especially his replacement, David Gilmour, who produced most of the sessions). Members of the Soft Machine also play on these records, which have a ragged, unfinished, and folky feel. Barrett's eccentric humor, sly wordplay, and infectious melodies range from brilliant to chaotic on his solo work. Lacking the taut power of his recordings with the Floyd in 1967, they nevertheless remain fascinating and moving glimpses into a creative psyche gone awry after (it is theorized) too much fame and too many drugs too early. With increasing psychological problems, Barrett withdrew into near-total reclusion after these albums. He never released any more material, and these days rarely appears in public, let alone to play music.

Although they attracted little attention upon their release, his albums also attracted a cult audience. Barrett's music and mystique achieved a lasting influence that continues to grow over two decades later. Latter-day new wave psychedelic acts like Julian Cope, the Television Personalities, and (especially) Robyn Hitchcock acknowledge Barrett's tremendous influence on their work. The Barrett cult became large enough to warrant the release of an entire album of previously unreleased material and outtakes, Opel, in the late '80s, as well as his sessions for the BBC.
~Richie Unterberger~

July 11,2006
Pink Floyd founder Syd Barrett passed away on July 7th, reportedly due to complications from diabetes. Barrett formed Pink Floyd with Roger Waters, Richard Wright and Nick Mason in 1965; the band would soon be known for pushing the boundaries of rock music with early singles like "See Emily Play" and "Arnold Layne." Barrett left the band soon after their debut LP, the classic Piper At The Gates Of Dawn, which included "Astronomy Domine" and "Interstellar Overdrive." He released two solo albums in 1970, and lived in seclusion ever since. Despite the brevity of his career, he was a huge influence on a number of artists including David Bowie, R.E.M., The Flaming Lips, and his former bandmates, who dedicated the song "Shine On You Crazy Diamond" to him.
---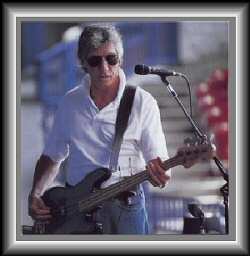 George Roger Waters
United Kingdom

Born September 6, 1943

Roger Waters was a primary creative force in Pink Floyd from 1965 to 1983. He first met Syd Barrett, who would become the band's lead singer and guitarist, during his school days when both attended a Saturday art class. He moved to London to study architecture at Regent Street Polytechnic and there formed a band with drummer Nick Mason and keyboardist Rick Wright; he played bass and sang. Barrett joined them, forming Pink Floyd. Though Barrett was the band's main songwriter at first, Waters wrote or co-wrote three songs on the first LP, The Piper at the Gates of Dawn (U.S. release: September 1967), including the sole composition "Take Up Thy Stethoscope and Walk." By the time of the group's second album, A Saucerful of Secrets (July 1968), Barrett had been replaced by David Gilmour and Waters had begun to take a more prominent role, contributing three songs and one co-composition to the LP. He also wrote or co-wrote all but one of the tunes for the band's soundtrack to the film More (July 1969), while his first solo work came on Ummagumma (November 1969), a two-LP set that consisted of one disc of live material and a second disc on which each band member contributed his own tracks. As of Atom Heart Mother (October 1970), Pink Floyd began to work up its material as a group, though Waters still contributed the sole composition "If." Working with Ron Geesin, he wrote the soundtrack for The Body (December 1970), his first work outside Pink Floyd. He also wrote or co-wrote eight of the ten selections on Obscured by Clouds (June 1972), Pink Floyd's soundtrack for the film The Valley. Pink Floyd's recordings were moderately successful through 1972. But The Dark Side of the Moon (March 1973), for which Waters wrote all the lyrics and some of the music, was a commercial breakthrough that became one of the most successful albums in rock history. (He was the sole author of the album's Top Ten hit "Money.") He took an increasingly dominant role in the writing of subsequent Pink Floyd albums, writing all the lyrics and collaborating on the music for Wish You Were Here (September 1975), writing most of Animals (February 1977) and The Wall (November 1979), and writing all of The Final Cut (March 1983). All were million sellers, with The Wall in particular rivaling the sales of The Dark Side of the Moon. (Waters was the sole author of "Another Brick in the Wall Part II," a gold, number one single drawn from The Wall.) Following the release of The Final Cut, Pink Floyd broke up and its members launched solo careers. Waters re-emerged with The Pros and Cons of Hitchhiking (April 1984), which went gold. He followed with Radio K.A.O.S. (June 1987) and went on tour to promote the release. Meanwhile, David Gilmour's solo album About Face (February 1984) was also a gold seller, but he was discouraged by that showing and recruited Mason and Wright to re-form Pink Floyd. Waters sued, seeking an injunction to prevent the trio from touring as Pink Floyd without him, but he lost the case, and the Gilmour-led Pink Floyd went on to tour and recorded successfully. Following the fall of the Berlin Wall, Waters organized an all-star performance of The Wall in Berlin on July 21, 1990. It was filmed and recorded, resulting in the album The Wall - Live in Berlin (September 1990). He released a third solo album, Amused to Death (September 1992), but did not tour, though he made an appearance at a benefit concert in 1993. He spent much of the 1990s working on an opera, Ca Ira, in French and English. But in July and August 1999, he mounted his first U.S. tour in 12 years. It was so successful that he returned for a second leg in June and July 2000, and the concerts served as the basis for the two-CD set In the Flesh Live. The Waters camp was relatively quiet after that, although a collection of singles and album tracks appeared in the spring of 2002.~ William Ruhlmann ~

---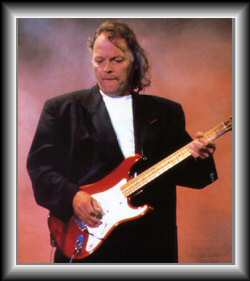 David Jon Gilmour
United Kingdom

Born March 6, 1946

David Jon Gilmour CBE was born on 6 March 1946 in Cambridge, his father a senior lecturer in Zoology at the University. Best known as guitarist, vocalist and writer with Pink Floyd, he is also renowned for solo work and collaborations with other artists including Kate Bush and Dream Academy.
David Gilmour met Roger 'Syd' Barrett while attending the Cambridgeshire College of Arts and Technology. Syd joined Roger Waters, Nick Mason and Rick Wright to form Pink Floyd, while David started playing in his own band Jokers Wild, subsequently forming Flowers, later to become Bullitt.
David was asked to augment the Pink Floyd lineup in 1967, only for Syd to leave the group months later, struggling with mental illness. David thus became lead guitarist, sharing lead vocals with Roger Waters.
David's guitar playing and song writing became major factors of Pink Floyd's world-wide success during the 1970s, including the distinctive vocals and guitar on 'Money', Floyd's US No. 13 hit of 1973. As a side project, David released his first solo album David Gilmour in 1978. Featuring Rick Wills on bass and Willie Wilson on drums & percussion, the album charted in the UK and the US.
David's second solo album About Face was released in 1984, again hitting the Top 20 in the UK.
David assumed control of Pink Floyd in 1985, after Roger Waters' departure, creating the new Floyd album A Momentary Lapse of Reason with Nick Mason and Rick Wright. The Division Bell (1994) was the last Pink Floyd studio album, supported by a 100 date global sell-out world tour. A live album and video, Pulse, followed in 1995. In 1996 Pink Floyd were inducted into the US Rock & Roll Hall of Fame, followed by the same honour in the UK in November 2005.
In July 2005, Pink Floyd reunited with Roger Waters for a one-off performance at Live 8 in London's Hyde Park, which was regarded by many as the highlight of an astonishing show.
David Gilmour has performed as a session musician, producer and even concert sound engineer, for a wide variety of acts including Roy Harper, Grace Jones, Tom Jones, Elton John, Arcadia, Bryan Ferry, Robert Wyatt, Hawkwind, Paul McCartney, Ringo Starr, Sam Brown, Jools Holland, Propaganda, Pete Townshend, The Who, Supertramp, Warren Zevon, various charity "supergroups" and many more.
In 2002, following a concert for Robert Wyatt's Meltdown Festival, three semi acoustic concerts were performed by David Gilmour and Friends at London's Royal Festival Hall, with one critic remarking that a 'reinvented rock god shines on as 21st century folk hero.'
In 2003 David donated the £3.6 million proceeds of the sale of his London house to Crisis, the charity for the homeless. He commented: "I don't need the money and I just thought it would be a good thing to do". In November of that year he was awarded a CBE for philanthropy & services to music.
David Gilmour's position in the canon of rock guitar players can be construed from his headline billing at the 2004 Wembley concert celebrating 50 years of the Fender Stratocaster guitar.
Now in 2005 David is recording a new solo album for release in 2006, to be accompanied by tour dates in the US and Europe.
---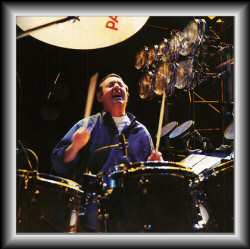 Nicholas Berkeley Mason
United Kingdom

Born January 27, 1944

Nick Mason is the drummer of Pink Floyd and the only member to have remained in the group for its entire existence. Born Nicholas Berkeley Mason on January 27, 1944, in the Downshire Hills area of Birmingham, England, he met future bandmates Roger Waters and Rick Wright while studying architecture at Regent Street Polytechnic.

He began playing with them in Sigma 6 in 1964, then the Screaming Abdabs the following year, and finally in 1965 the Syd Barrett-led blues/R&B outfits that soon became Pink Floyd. Although drumming for Floyd was far and away Mason's primary concern over the next few decades, he did occasionally delve into extracurricular projects.

He moonlighted as a producer during the '70s (particularly during the latter half of the decade), working not just with fellow proggers like Robert Wyatt, Gong, and Steve Hillage, but also post-bop jazz eccentric Michael Mantler and punk group the Damned. In 1981, Mason released the first album ever under his own name, Fictitious Sports. The music was a quirky blend of jazz and rock composed by Carla Bley, who also played keyboards; other supporting musicians included vocalist Wyatt, trumpeter Mantler, and guitarist Chris Spedding. In turn, Mason played drums with Mantler off and on over the '80s, including on the albums Something Else (1982) and Live (1987).

Mason also formed a production company with former 10cc guitarist Rick Fenn, which produced music for films (including White of the Eye), television, and advertisements. As Mason + Fenn, the two also recorded a pop album in 1985, called Profiles, which produced the David Gilmour-sung single "Lie for a Lie."

As Floyd's recording and touring schedule grew more sporadic, Mason was left with more time to pursue his favorite hobby, auto racing.

---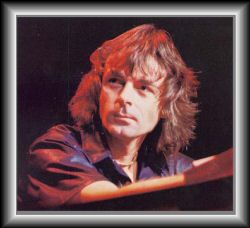 Richard William Wright
United Kingdom

Born July 28, 1945

RICK WRIGHT was a founder member of the Architechtural Abdabs, along with Roger Waters and Nick Mason, in 1965. Later that year, with the addition of Syd Barrett, they became the Pink Floyd. The band established itself on the London underground scene with WRIGHT's Farfisa organ a distinctive element in their sound. After two Top 20 singles and a Top 10 album in '67, Pink Floyd looked set for a successful career but Syd's personal disintegration scuppered their prospects.
After David Gilmour replaced Syd Barrett in mid '68 the band gradually redefined their style over half a dozen albums (three of them soundtracks) but it wasn't until 1971's Meddle with the side-long Echoes inspired by WRIGHT's single piano note fed through his Leslie rotating speaker, that the band regained the prospects they'd shown four years earlier..
The next album, Dark Side Of The Moon, ensured their place in rock history. Released in 1973, the album became more than just a soundtrack to a generation (many of whom first discovered the delights of stereo listening to it in headphones). It spent an unprecedented 15 years in the Billboard Top 200 album charts and to date it has sold 28 million copies (rising at the rate of a million a year) making it the third highest selling album ever. WRIGHT co-wrote many of the tracks on this epoch-making album but his most memorable contribution was The Great Gig In The Sky.
The next two albums - Wish You Were Here in 1975 and Animals in 1977 - consolidated their position as one of rock's biggest names but, as frequently happens, the band's phenomenal success put an increasing strain on their personal relationships and the creative tensions gave way to conflict. Solo albums were a safety valve and WRIGHT released Wet Dream in 1978.
By the time they came to record The Wall in 1979 Roger Waters was assuming control of the band. WRIGHT felt the full brunt of this when Waters threatened not to release The Wall unless WRIGHT left the band. WRIGHT spent the next two years as a paid employee, playing The Wall in America, Britain and Germany.
None of this was public knowledge until WRIGHT's name was conspicuously absent from Pink Floyd's 1983 album, The Final Cut. However, within months the band had imploded under the weight of the acrimony between the survivors. WRIGHT released his second solo album, as Zee with Fashion singer Dave Harris, in 1984 called Identity, which he now describes as "an experimental mistake". WRIGHT rejoined Pink Floyd in 1987, after Gilmour and Mason had reconstituted the band, during the recording of A Momentary Lapse Of Reason. He arrived too late to contribute any songs but played on the world tour that confirmed Pink Floyd's status as one of the world's biggest drawing live attractions.
However on Pink Floyd's most recent studio album, The Division Bell, the band returned to the co-operative principles that had got lost during the late '70's. WRIGHT co-wrote Wearing The Inside Out with lyricist Anthony Moore and co-wrote the music for Cluster One, What Do You Want From Me, Marooned, and Keep Talking with David Gilmour. More important, as WRIGHT says, "On this album the three of us actually played together. It's like the Floyd again." Millions of fans felt exactly the same way during Pink Floyd's Division Bell world tour which played over 100 shows, culminating in their 14-night stint at London's Earls Court in the autumn of 1994.
© 1996 EMI Records Ltd